News
College Commitments
Bulldogs News
Connor Dick makes NCAA commitment to Northern Michigan University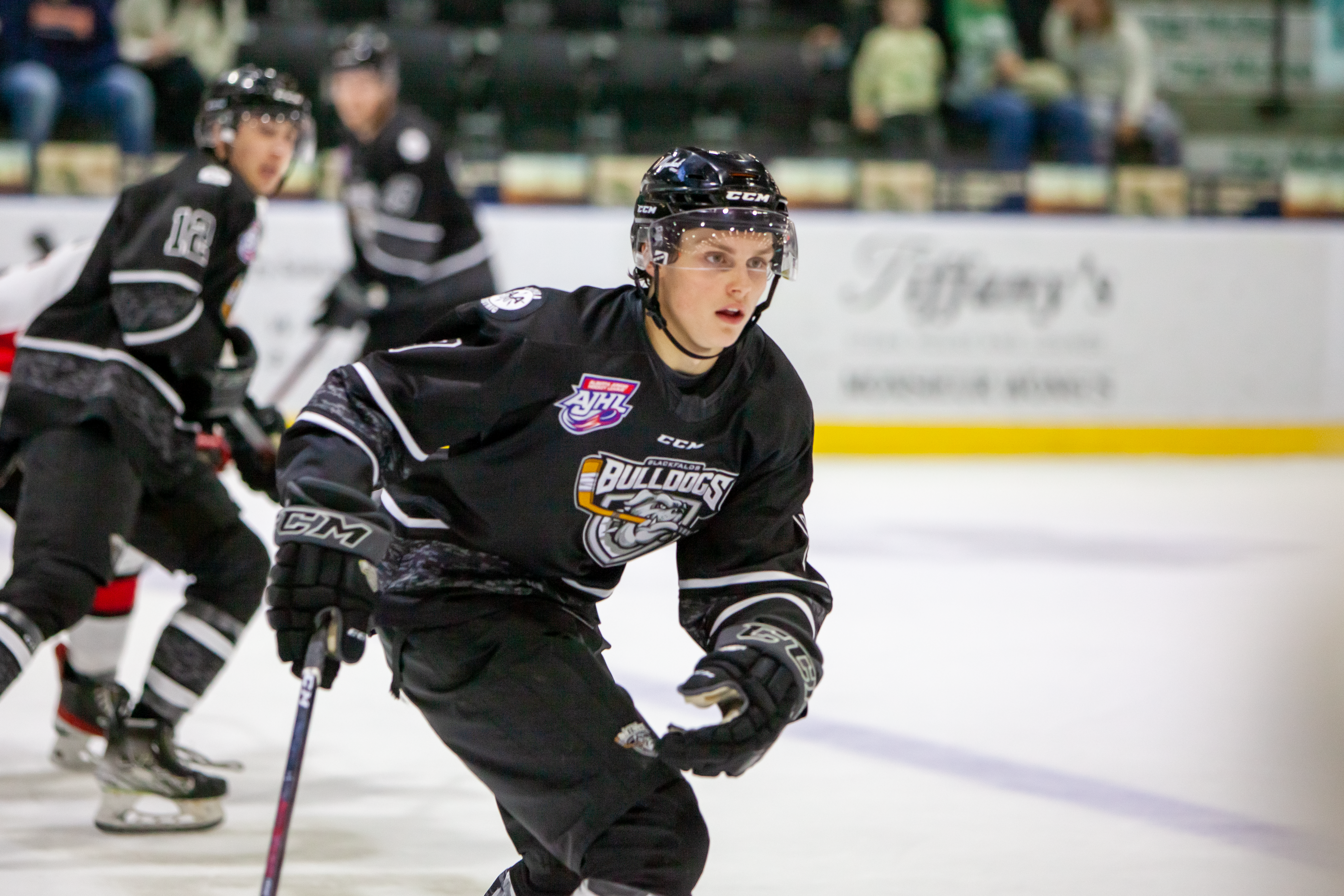 Photo credit: Xander Holcomb, Blackfalds Bulldogs
The Blackfalds Bulldogs are proud to announce the commitment of Connor Dick to Northern Michigan University in NCAA Division 1. Dick, 17, played for his hometown Sherwood Park Kings in the Alberta Elite Hockey League's U18 AAA division last season, scoring 15 goals and 28 points in 37 games. Dick played two games with the Bulldogs as an affiliate player and joined Blackfalds full-time this season. As a rookie, Dick has 6 goals and 12 points in 17 games so far.
"I met them at showcase and then I had a couple meetings, couple FaceTimes with them, and we decided on a date that I could fly down and see everything; the campus, and rink," said Dick. "They made an offer that weekend and I was pretty stoked. I decided that's where I want to go."
"He's a special player, and I'm so happy for him," said Bulldogs head coach Doug Quinn. "He worked so hard in the offseason to improve his game."
Dick has played up and down the Bulldogs lineup this season, playing in virtually every situation. Dick says that his teammates who had gone through the process of making NCAA commitments helped him out through the process.
"I spoke to them all about it, asked how they made their decisions," said Dick. "I asked what it was all about, just to decide if it was the right choice."
Coach Quinn says that Connor's commitment was something that he and his organization are proud of. "Connor was a young player that we recruited last year and was one of our affiliate players. He has grown so much in the last year and is an example of the culture we are trying to develop," said Quinn. "Our goal is to get the kids to the next level. We bring them into our system, and give them the resources and the life skills to reach the highest possible level both on and off the ice."
Dick said that getting the NCAA commitment so early in his junior hockey career was a good reassurance. "It's a bit of a relief, just knowing you have somewhere to go after the AJ."
Dick joins Jason Siedem and Brett Meerman as the third Bulldog to earn an NCAA commitment this season. Blackfalds currently sit in third place in the AJHL's south division standings.
The entire Bulldogs organization would like to congratulate Connor and his family on his commitment and wish him the best of luck at NMU!