Bulldogs' Third Period Push Comes Up Short in Okotoks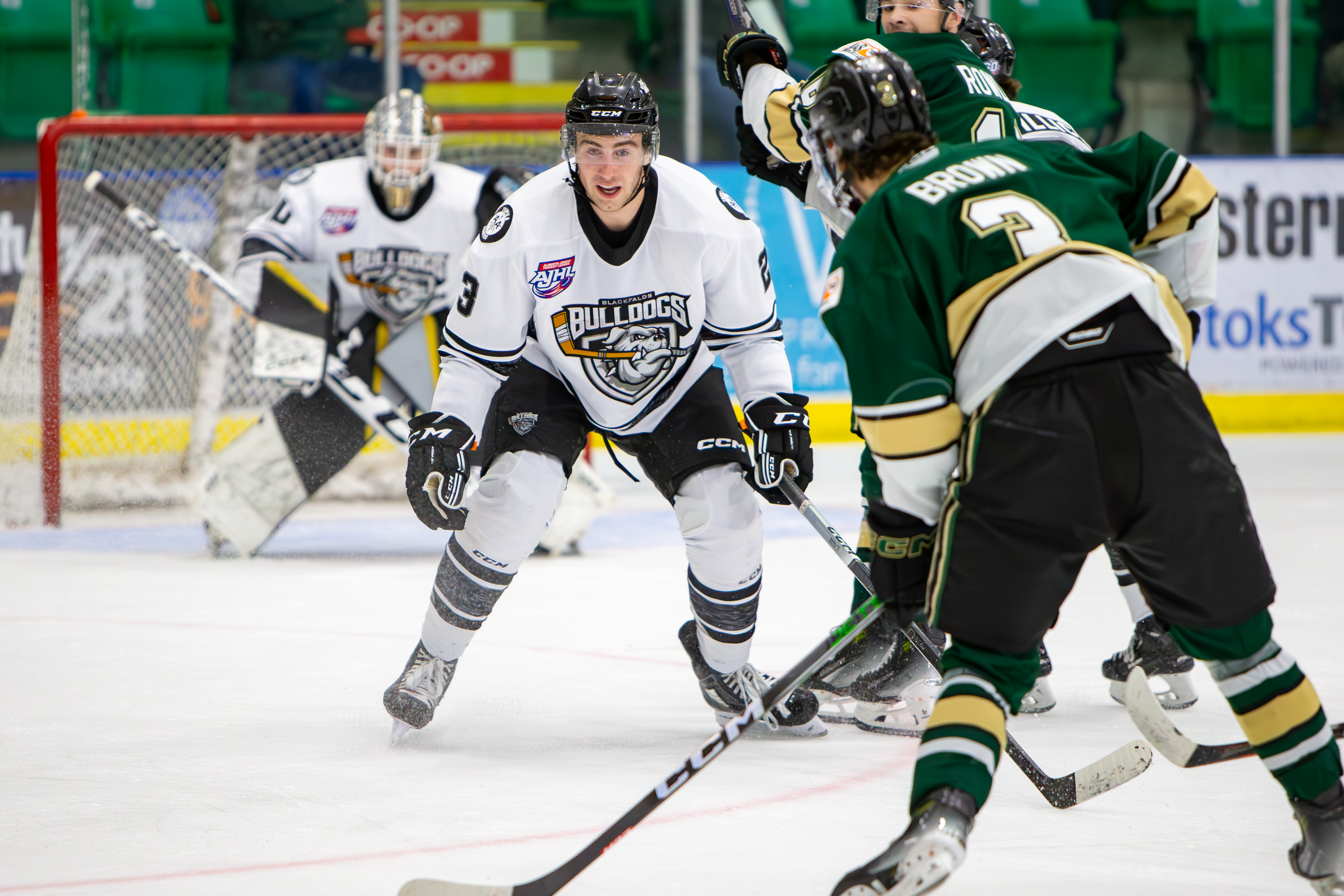 Photo credit: Xander Holcomb, Renegades Photography
The Blackfalds Bulldogs and Okotoks Oilers' six games last season all shared the same theme; the home team proved victorious. That meant recent history was against the Bulldogs going into Friday night's clash, especially since the Oilers had started the season a perfect 3-0-0. Ethan Morrow led the way in the first period for Blackfalds, stopping all 12 shots he faced, but saw his efforts undone early in the second period. Rylan Brown activated from the left point for the Oilers, making a good move down low before slipping a pass toward the front. Hayden Fechner's quick one-timer beat Morrow to give Fechner his first as an Oiler and Okotoks the lead just over two minutes into the second period. Dean Spak and Sam Huck would add second-period goals as the Oilers looked to be in control going into the final 20 minutes.
Hunter Sawka's hot start to the season continued early in the third period, notching his seventh point in just four games on the powerplay off a great power move to the slot and shot that blew past Ethan Morrow and in to make it 4-0. Blackfalds would strike back on a two-on-one, with Josh Knittig capitalizing on a turnover and setting up Alexander Dimitriadis to pound home his first AJHL goal and make it a three-goal game. An excellent rush from Bulldogs defence man David Brandes gave Eddie Moskowitz the chance he needed to beat Christian Green for the second time in less than 90 seconds to get the Bulldogs right back in the game at 4-2. Colton Alexander, however, would rip one past Morrow's glove and in to seal the deal just six minutes later, giving the Oilers their three-goal lead back, a lead they wouldn't relinquish.
Blackfalds' record falters to 2-2-0, while the Oilers improve to a perfect 4-0-0 to start the season. The two teams face off again tonight at the Eagle Builders Centre, with the pull drop scheduled for 6:00. Newly-acquired Wilson Maxfield gets the nod for the Bulldogs in between the pipes, looking to earn the win in his debut for Blackfalds. After Christian Green's strong Friday night performance, Okotoks goes to Shane Shelest between the pipes, as the Oilers continue to rotate three goaltenders. The Bulldogs will be looking to regain their winning record and improve to 2-1-0 on home ice, while the Oilers look to remain one of just two undefeated teams in the AJHL.