Tyler Wallace Awarded OpenCircle AJHL Scholarship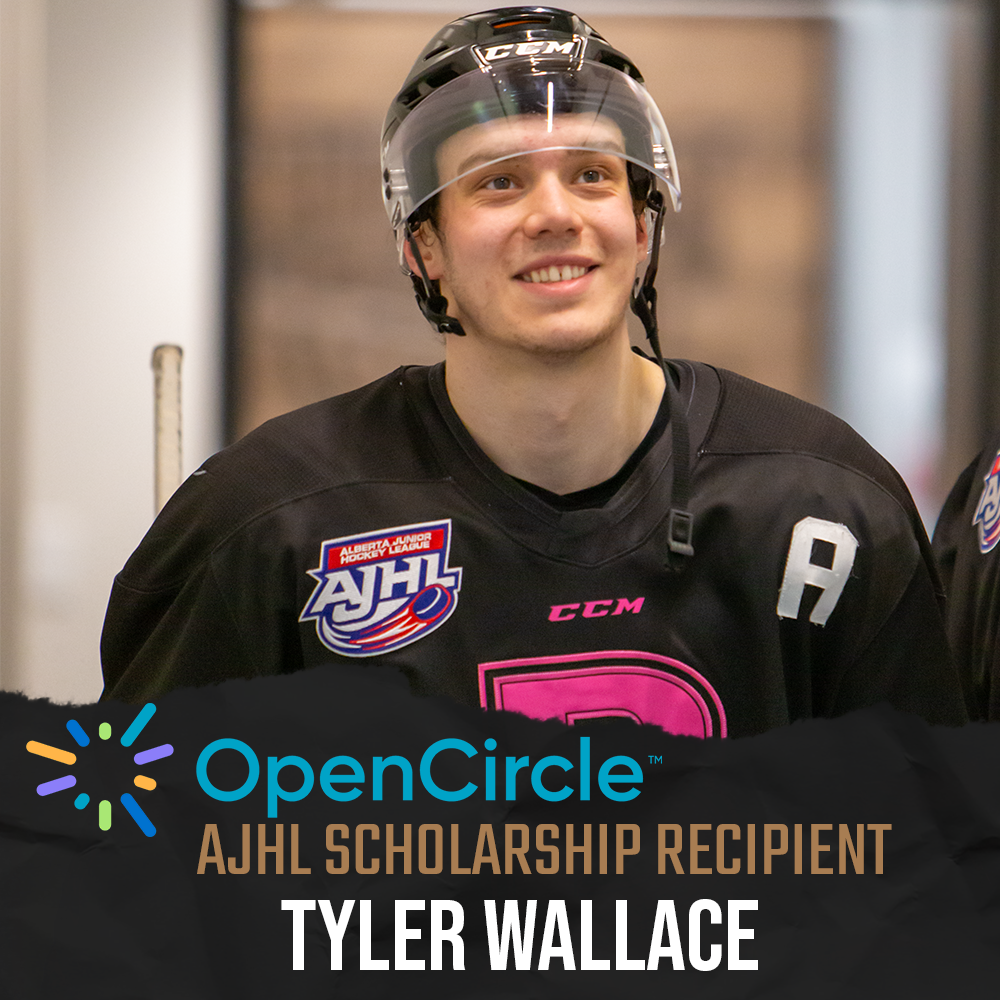 The Alberta Junior Hockey League (AJHL) and OpenCircle are pleased to announce Tyler Wallace of the Blackfalds Bulldogs as one of the two recipients of the 2023 OpenCircle AJHL Scholarship.
The scholarship recipients were evaluated based on academic performance, an essay submission regarding leadership, and reference letters from a coach and teacher of the applicant.  Each recipient will be awarded a $2,000 scholarship towards their post-secondary education.
Tyler Wallace's work ethic and leadership have been exemplary throughout his high school career, "Over the four years that I taught Tyler, I have found him to be an incredible student-athlete and a strong contributing member to the Springbank Community High School community", stated SCHS Teacher Shane Martell. "He is caring, thoughtful, passionate, selfless and dedicated to not only his academics, but also to his athletics and to the community on the whole. Throughout High School, Tyler carried an academic average of ~90% and graduated receiving 'honors with distinction', all while he continued to support and advance his athletic prowess."
"Tyler is a driven young man with an extremely bright future ahead of him. He is very well-liked and respected by students and teachers alike and has an uncanny ability to reach multiple groups through his charismatic personality; which further lends to his social capital within the school and beyond. Recently, Tyler earned a Division I scholarship to play hockey at Niagara University. It is evident through his daily interactions, that Tyler sincerely wishes to make a difference on a large scale."
Blackfalds Bulldogs Assistant Coach Ryan Tobler praised Wallace's contributions as a teammate, "Tyler is a very talented two-way center that possesses a lethal shot as reflected by his league-leading 42 goals this season.  Tyler is a very well-rounded player that is reliable, hard-working, and plays in all situations.  Simply put, he can control a hockey game and make players around him better. As a teammate, Tyler is someone that players look up to for advice, both on and off the ice, as they greatly respect and value his opinions. He truly cares about helping his teammates grow as hockey players, while taking the time to share ideas and experiences that he has garnered over his hockey career."