Thunder come from behind to get win in Blackfalds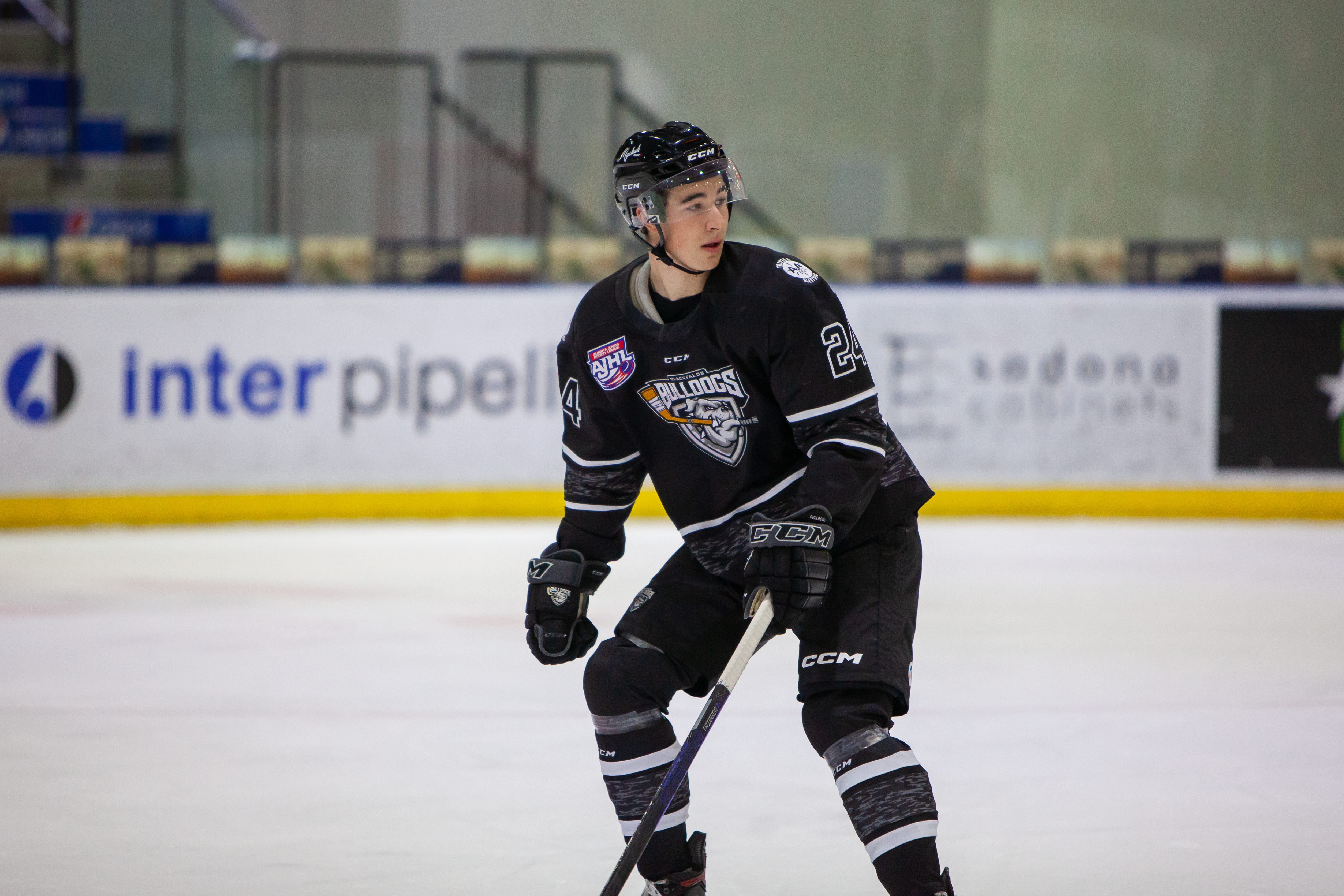 Photo credit: Xander Holcomb, Blackfalds Bulldogs
The Blackfalds Bulldogs and Drayton Valley Thunder played the second of their two meetings this season on Friday night. The Bulldogs had taken two points in the form of a 5-2 win from Drayton Valley earlier in the year. The Bulldogs had a four-game winning streak snapped by Brooks on Tuesday, while the Thunder were coming off an impressive win over the Sherwood Park Crusaders.
The Bulldogs started the game on the front foot, first scoring ten seconds into the first period. Kasey Hiemstra forced a turnover off the draw, leading to a two-on-one. Brendan Ross found Jayden Joly who fired the game's first shot over Cole Savage's blocker side to make it 1-0. Jake Geraci would make it 2-0 minutes later, taking a pass from David Brandes and putting his wrist shot through Savage's glove to double the Blackfalds advantage. Drayton Valley found their legs after the second goal and would score two quick ones to draw back level.
First, Cooper Brown picked up the rebound from a Matthias Bessey backhand shot and stuffed a wraparound into the back of the net to make it 2-1. Then, a good bit of passing between Gavin Middendorf, Daniel Kernaghan, and Brendan Mairs ended with Mairs ripping a one-time shot through Matthew Hennessey to make it 2-2. Both teams traded unsuccessful powerplay opportunities throughout the first half of the hockey game, but it was Drayton Valley who broke through on the man advantage at the 13:11 mark of the second period. Mairs took a pass on the right-hand side, moved in, and slid a low shot toward Middendorf waiting at the side of the net. Middendorf deflected the puck through Hennessey's legs, giving Drayton Valley their first lead of the game at 3-2.
From there, it was ostensibly the Cole Savage show for the remainder of the game. Blackfalds threw everything they could at the Drayton Valley goal, finishing the game with a 45-20 margin in shots, but it was Savage who starred, ending the game with 43 saves and earning just his second victory of the season. Blackfalds has two games remaining before the Christmas break, the first tonight at home tonight against the Grande Prairie Storm, followed up with a Tuesday night battle in Spruce Grove.