Back-and-forth game ends in 6-5 Grizzlys win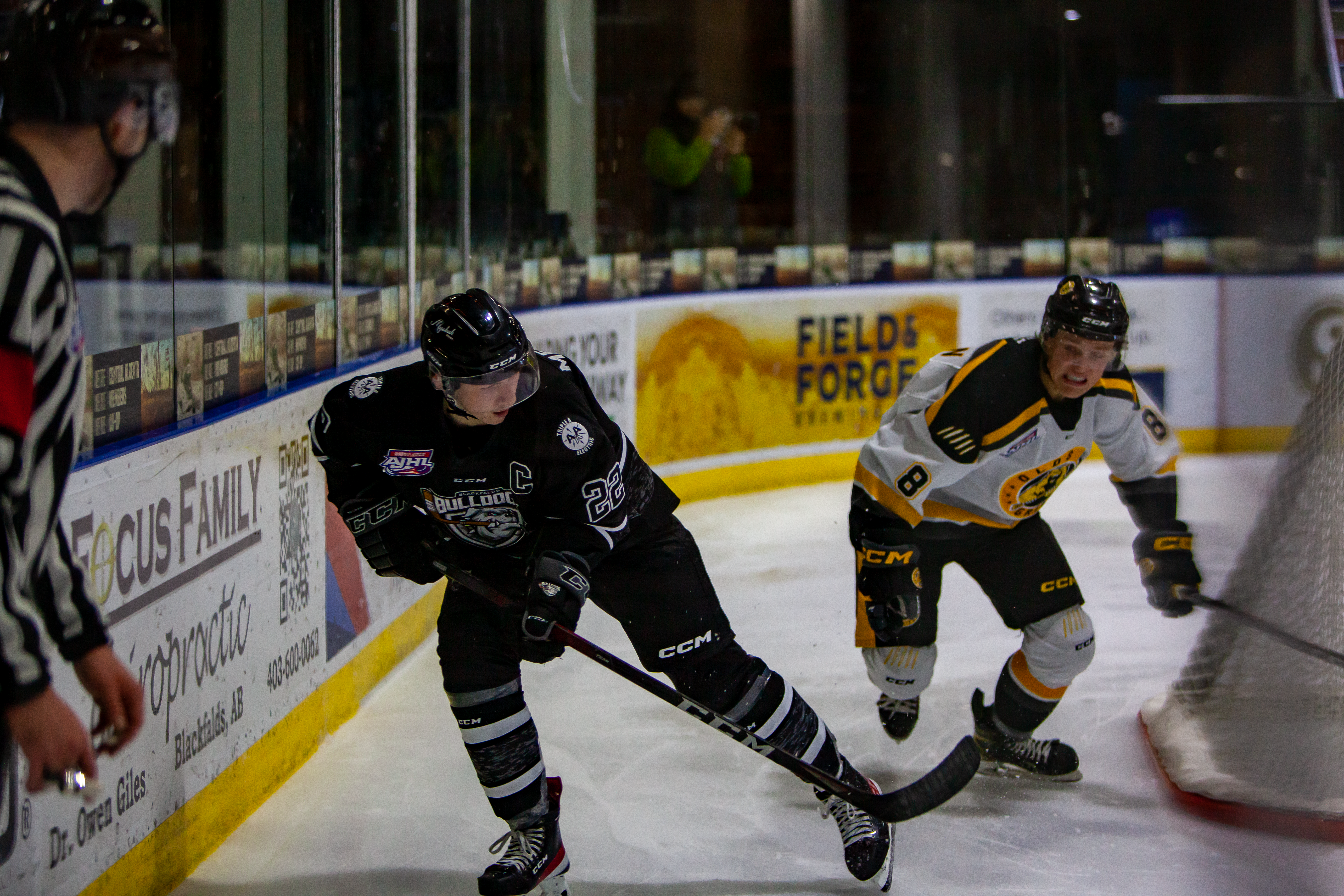 The Blackfalds Bulldogs and Olds Grizzlys linked up Saturday night for their fourth meeting of the season. Olds took the first game followed by two Blackfalds wins, first in overtime and second by a blowout. While the Bulldogs had made two trades during the week, Olds had more new faces from their deals, with two forwards and two defencemen playing in just their second games as Grizzlys.
The Bulldogs would take an early 1-0 lead with a powerplay goal from Brendan Ross, but one of the Grizzlys' new faces, Jayden Watson, notched a powerplay marker of his own to make it 1-1. The Grizzlys would score again quickly to take a 2-1 lead through captain Liam Hughes. Despite Blackfalds holding a 19-8 first-period margin in shots, the Grizzlys led 2-1 through one.
Another new face for the Grizzlys, Connor Michaud, scored his first goal with Olds on an early second-period powerplay to make it 3-1. The Bulldogs would pour on the pressure after going two down, and got back into the game quickly thanks to a perfect snap-shot by Connor Dick.
Brett Meerman would fire home Blackfalds' second powerplay goal of the game just minutes later to tie the game 3-3. 59 seconds after Meerman's goal, Connor Dick would find Kasey Hiemstra in the slot. Hiemstra, playing in his first game with Blackfalds, scored the go-ahead goal against his former team to give Blackfalds a 4-3 lead through two.
Sheldon Kwiatkowski would tie the game up at four early in the third period, beating both his d-man and Matthew Hennessey, with a toe drag, backhand finish. Blackfalds would score again on the powerplay, with Layne Loomer beating Marcus Cumberworth to give the bulldogs a 5-4 third-period lead.
Nathan White, however, became the third Olds Grizzly to score his first goal with the team during the game, taking a breakaway pass from Cade Moxham and beating Hennessey to make it 5-5. A late Bulldogs penalty gave Olds a powerplay chance to win the game, and win it they did, with Jayden Watson taking a Kwiatkowski pass and firing it home from the slot with nine seconds to go.
The win for the Grizzlys snaps a two-game slide and gives them the edge in the season series with Blackfalds, now with a 2-1-1 record. Marcus Cumberworth earns his first Grizzlys win with 37 saves. Blackfalds drops three of their first four to start November, and have a tough task Wednesday night with the Spruce Grove Saints in town. They'll host Canmore Friday night before a road trip that will finish off the month of November.