Hockey Journey Comes Full Circle for Heindel and Meerman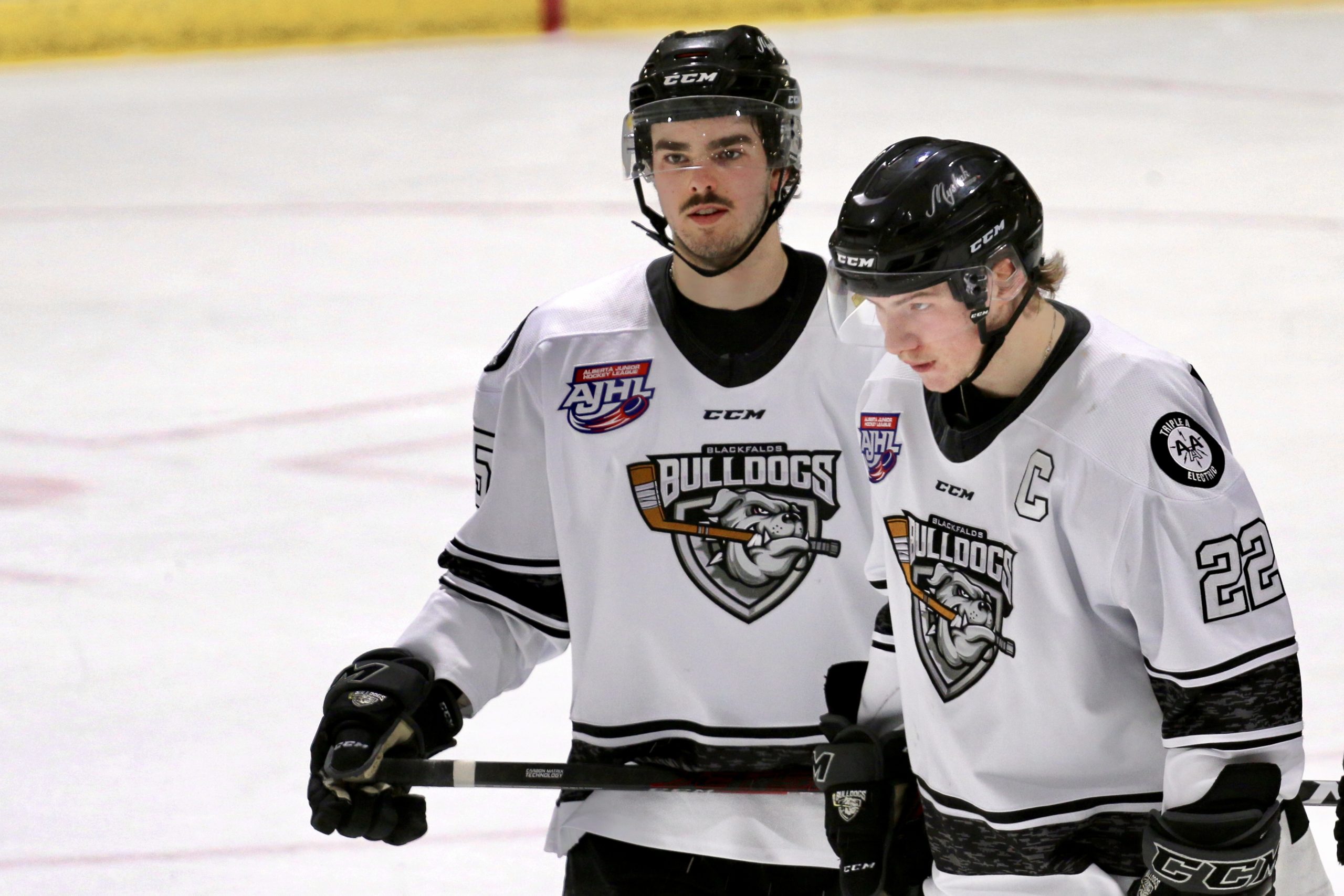 Adam Heindel and Brett Meerman each played an integral role in laying the foundations for the Blackfalds Bulldogs' inaugural season in 2021-22. Heindel joined the team early in the season and led the way on the blue-line with 35 points in 47 games (11G, 24A) while Meerman was named as the first captain in franchise history and averaged just over a point-per-game, registering 62 points (25G, 37A) in 60 games. Being a core piece of an expansion team is typically a 'once in a lifetime' opportunity, but it was actually familiar territory for both Meerman and Heindel, who spent their early days playing minor hockey together on a team in a similar situation.
Heindel hails from Lacombe, Alta. and Meerman from Blackfalds, Alta. and the two were initially teammates in Bantam AA back in 2015-16 on the newly formed Central Alberta Selects team. Both players were key contributors in setting a standard, on and off the ice, for the brand new organization.
"It started in Bantam," Heindel recalled. "We were on the same Bantam AA team the year the new Central Alberta Selects team was introduced in Lacombe and we both had killer years. Brett won 'MVP' of the South Central Alberta League and I happened to win 'Best Defenseman'. We won the north division but lost out in the league final, but it was a great inaugural year for that team."
Later in their careers, Heindel and Meerman would play on the same team together once again when they suited up for the Red Deer Optimist Chiefs, ultimately making it to the finals of the Mac's (U18 AAA) tournament in Calgary, Alta that year. Eventually, when they both embarked on their Junior 'A' hockey careers, their paths would diverge, when Meerman joined the Grande Prairie Storm of the Alberta Junior Hockey League (AJHL), playing there for two seasons (2019-2021) and Heindel signed with the Drumheller Dragons (AJHL) where he played parts of three seasons (2017-2020). 
When the 2021-22 inaugural season got underway in Blackfalds, Meerman was now captain of the Bulldogs, however, Heindel had previously stepped away from Junior 'A' hockey to focus on his education in 2020-21, and so it seemed this serendipitous story might come to an unceremonious conclusion, if not for a phone call from Bulldogs assistant coach, Al Parada, who had former ties with Heindel.
"It was actually pretty funny," Heindel recalled. "I started out as an affiliate when Al (Parada) asked me to play against Okotoks, and I obviously knew Brett was on the team and we always kept in touch, but I reached out and told him I was affiliating and he was just like, "Dude no way!" and I just remember getting on the bus for that first game and we just couldn't stop laughing. It was like we were reunited, just like we were back then, and just cracking jokes like there was no time lost."
Heindel and Meerman were teammates again, which may seem mostly coincidental at first, but in fact, when the two played together with the Chiefs, they were coached by Bulldogs owner/head coach, Doug Quinn and his staff. The long-standing familiarity with the coaching staff helped cultivate a comfortable atmosphere for Heindel, who embraced the opportunity to once again play for his former coaches now standing behind the bench in Blackfalds. Despite the similarities on the surface, Heindel revealed that it was a little different for him this time around, mostly in regards to his confidence heading in. 
"As a 16-year-old playing under Doug I was a little more nervous as a rookie in the league," admits Heindel. "But coming back as a 20-year-old, with a few years of Junior under my belt, it was different for sure. I think it was pretty cool to have virtually the same coaching staff from that (U18 AAA) year to come back and coach in my 20-year-old year."
Just like in 2015-16, both Heindel and Meerman were recognized for their efforts in the inaugural season for the Bulldogs in 2021-22. Meerman won the 'Top Scorer' award and was named 'Most Valuable Player', while Heindel picked up 'Top Defenseman' honours for the Bulldogs. Their hockey journey's had now come full circle, both finishing their Junior careers with distinction, and they managed to do it together. It does make you wonder, when contemplating the cyclical nature of things… what might be next for these two?