Blackfalds Win Back-to-Back Weekend Games Over Drumheller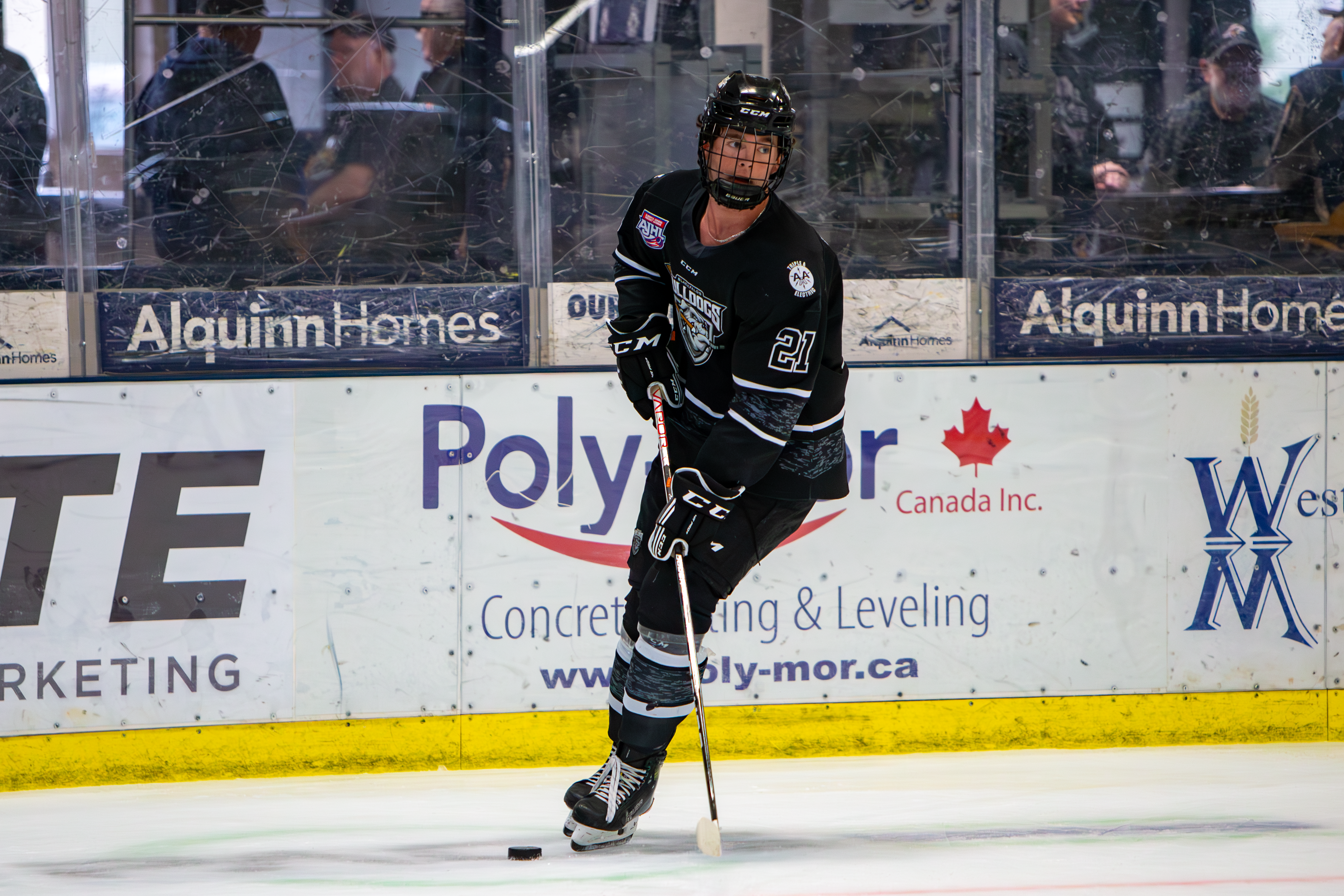 Photo credit: Xander Holcomb, Renegades Photography
Following a loss in their opening game of the pre-season in Spruce Grove, the Blackfalds Bulldogs returned to action over the Labour Day weekend with back-to-back games against the Drumheller Dragons, hosting them at the Eagle Builders Centre Friday and hitting the road Saturday. Both Blackfalds and Drumheller went into their home-and-home having lost their preseason openers, with Drumheller falling short in a shootout to the Calgary Canucks in their first game. 
After a first period that saw Drumheller escape with a 1-0 lead through a Coy Pighin goal, an offensive explosion from Blackfalds in the second period led the way to victory. While Luke McPhee's goal nabbed Drumheller their second of the night, Connor Dick and Eddie Moskowitz scored their first preseason goals, to tie the game by the halfway point of the game. Tanner Willick and Jack Plandowski would score a power play goal each to wrap up the second period with Blackfalds in the lead by two. A lethal Bulldogs power play continued into the third period, helping Nolan Dupont, Luke Dahlen, and Josh Sale strike three more goals to give Blackfalds seven on the night, five of which being scored on the man advantage. A second Pighin goal gave Drumheller some consolation, but Blackfalds ended the game victorious by a 7-3 margin. 
The Bulldogs and Dragons squared off again the following night in Drumheller. The game's first two periods were by no means uneventful, as Drumheller outshot Blackfalds 28-14 and outscored them 2-1 through 40 minutes. Adam Raesler and Easton Adrian's second-period goals turned the game around following Brendan Ross' first-period marker. The Bulldogs and the Dragons had each period of the third period in which they not only dominated but scored their own bunch of goals. First, Blackfalds struck with four goals in the span of just 87 seconds. Brendan Ross finished a hat trick with the first two, followed by Ben Winkelmann and Kurt Gurkan getting on the board and giving the Bulldogs a 5-2 lead. It was a lead that looked somewhat safe but wasn't, thanks to late goals coming from Ryan Henderson, Braxton Thornton, and Coy Pighin. Brendan Ross would eventually score the shootout's only goal, and three saves from Noah Davis led the Bulldogs to a 6-5 win. 
Blackfalds' next preseason game goes tonight on home ice against the Spruce Grove Saints, with Noah Davis getting the nod to start in between the pipes. Blackfalds' 2-1-0 preseason record is currently bested by Spruce Grove's perfect 3-0-0 mark thus far. Following tonight, the Bulldogs play a home-and-home against the Bonnyville Pontiacs on Friday and Saturday of next weekend to close our their preseason games. Their regular-season opener is ten days away, taking on the Grizzlys in Olds, followed by their first home game just a day later against the Drayton Valley Thunder.