A Homecoming for Braden Malsbury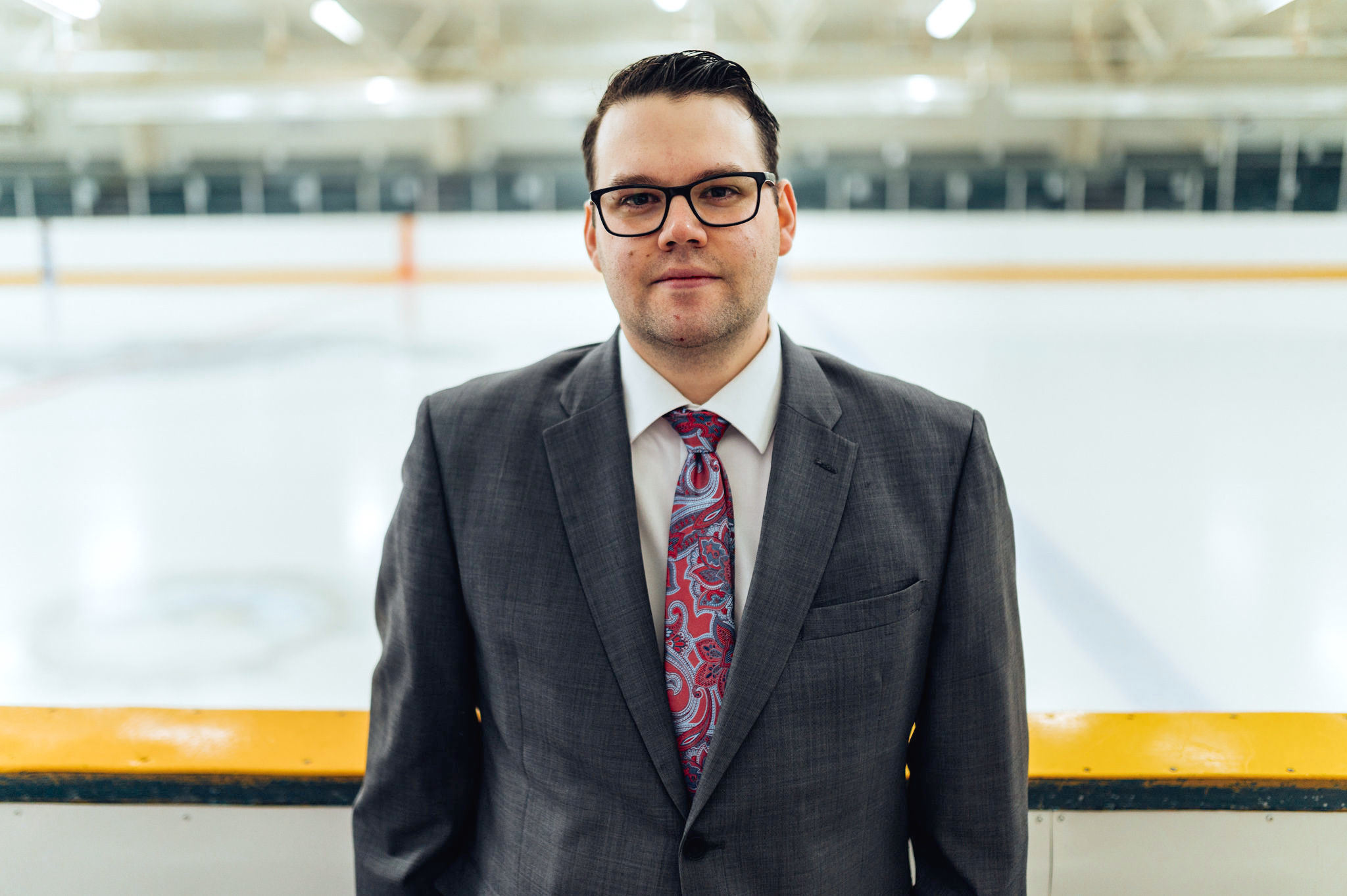 The 2021-22 inaugural season for the Blackfalds Bulldogs was a celebration of countless initial moments, from the team's first game in a brand new arena, to their first loss, their first fight, first goal and their first win. The voice chosen to delicately dictate each one of these franchise firsts all season long was Braden Malsbury.
It was a homecoming, of sorts, for Malsbury who was announced as the Bulldogs' first-ever Play-by-Play broadcaster last summer. Originally from Red Deer, Alta. Malsbury spent time as the voice of the La Ronge Ice Wolves of the Saskatchewan Junior Hockey League (SJHL) for parts of eight seasons before joining the expansion Bulldogs. He started out in the industry closer to home, working with former local television station RDTV, where he was inspired to become a hockey broadcaster while listening to the Red Deer Rebels broadcasts with Cam Moon; now the radio voice of the Edmonton Oilers. (NHL).
Despite his industry experience, coming into the season as the new broadcast voice of an expansion team had its own set of challenges. Malsbury admits there was an adjustment period as he learned all the new players on the team, as well as getting familiar with other teams and rinks around the Alberta Junior Hockey League. 
"It was kind of weird going into a season where I hadn't been around the team, because previously, in La Ronge, I'd been there for so long I knew every prospect they had in the system," explains Malsbury.
Still, perhaps the biggest challenge, he admits, was finding his 'broadcast voice' again after the previous year, where a pandemic shortened season afforded Malsbury very few opportunities to call live hockey games.
"I was pretty nervous in my first game in Brooks, because due to the Covid season in the SJHL we only played five regular season games, so I hadn't really done a game in nearly a year. So I was a little worried about that and honestly it took a few games to get back in sync."
However, it didn't take long for Malsbury to adjust and get settled into his surroundings, as he worked alongside his new broadcast partner, Mike Moller, calling games on HockeyTV throughout the year. Malsbury also leaned on his former personal experience, not only watching and calling hockey, but playing it as well. As a former net-minder himself, Malsbury adds a unique perspective when analyzing games, and admits it certainly helps to have that background as a broadcaster.
"I think from a goaltending perspective you see the whole ice, obviously, so I'm used to watching and seeing everything develop. I never really found it that hard to keep up with the play because I have a feel for watching a lot of hockey," Malsbury explains. "I've been around Junior hockey since I was a little kid, so that helped. I've been in the dressing rooms after games with my cousins, they would bring me in there, so I know what Junior hockey is all about; it's always been a huge part of my life."
Traveling with the team this season, Malsbury had an in-depth understanding of the new Bulldogs players, who continued to improve steadily with their play on the ice throughout the inaugural season. Having watched the progression so closely game-in and game-out, Malsbury offered insightful reflection on some of his standout moments of the season.
"At the beginning of the year the team was quite young, but they added some veteran pieces. I thought one highlight of the year was the play of Brett Meerman, a local guy, who used to play for the Grande Prairie Storm, and was selected as captain. 62 points in 60 games so I thought that was a neat story," recalled Malsbury.
"Then they slotted in some reinforcements from other leagues and one guy that stood out to me was Jason Siedem," he continued. "Siedem scored in his first game in Grande Prairie and ended at almost a point-per-game pace, so I thought he was a big part of the Bulldogs, upfront, this season."
As the Bulldogs Play-by-Play broadcaster, Malsbury is the intermediary voice connecting the hockey team to the community and, growing up in the area, he has a strong appreciation for the role the organization plays in and around central Alberta. Malsbury has been an active participant in local charity events put on by the Bulldogs Foundation, and is fully aware of how much it means for the local community to have the Bulldogs playing in Blackfalds. 
"I think it's huge for Blackfalds, they've got the nice rink, the Eagle Builders Centre, and they finally have a team at the Junior 'A' level that they can call their own. In the past they had the Junior 'B' Wranglers, but I think a lot of people have rallied around the team this season," Malsbury commented. 
"I see a lot of kids at the games with Bulldogs merchandise or playing mini sticks and they will be fans forever if they remain in the community of Blackfalds, so it's been great seeing it all develop."
Being an integral part of an inaugural season has been an incredible experience for Malsbury, who hopes this young team, (just like those young fans,) can continue to grow and establish roots in the Blackfalds community for many years to come. As he looks ahead to next season with eager anticipation, Malsbury continues to affirm with each game behind the mic, the old adage:  there's no place like home. 
Article by: Bryan Wilson